Last updated on: April 13th, 2023 18:58 pm
Electric rising bollards carry a 2 years warranty and durable maintenance and repair support.
We can provide OEM and ODM services. These electric rising bollards can be equipped with a card reader, which can automatically control the lifting of the hydraulic rising bollards through card swiping. It can also be equipped with a parking turnstile gate or access control. It can also be connected to the management system and the charging system and controlled by the computer. You can also customize the LED flashing function to flash warning during column activity and light warning at night. You can also customize the audible alarm and intermittent alarm. If you want to customize a hydraulic rising bollard, please contact us
Electric rising bollards are a kind of equipment to control the passage of road vehicles, which can be used together with the parking barrier gate control system or alone; It is specially designed and developed to prevent unauthorized vehicles from breaking into sensitive areas and has high practicability, reliability, and safety. It is composed of a bottom base, lifting blocking barrier column, power transmission device, control, and other parts. According to the different needs of different customers, it has a variety of configuration modes for users to choose from, which can meet the functional requirements of various customers.
Electric rising bollards features:
The fastest lifting time of electric rising bollards can reach 3 seconds, which is much larger than the pneumatic lifting column of the same specification, which is extremely valuable. Because it adopts the hydraulic driving unit, the action is soft and calm, which solves the problem of the high noise of the traditional pneumatic lifting column due to the air pump.
The control unit of electric rising bollards adopts multi-functional logic controller, which can modulate a variety of different functional modes to meet the different functional needs of different users. In addition, it is worth mentioning that its movement stroke is an adjustable timing design, and users can freely control the lifting height of the column, effectively saving energy consumption.
Its core part is the design of the hydraulic unit and mechanical power mechanism, which can effectively transfer mechanical energy to the hydraulic driving unit and act efficiently. The unique design and excellent performance of the hydraulic units to realize pressure rise are rare in the same field at home and abroad.
In case of a power failure and other emergencies, the emergency descent button can be manually opened to lower the column to open the channel and release the vehicle. The upper and lower parts of the internal fixing mechanism are respectively equipped with current detection sensors and electromagnetic sensors, so as to realize the overcurrent protection of the power unit and the effective limit of the column action, and the operation is stable and reliable.
Environmental protection and energy saving, low consumption, lower failure rate, longer service life, and lower maintenance cost. In addition, the non-traditional guiding mechanism design is adopted for installation and maintenance, which is more simple and fast.
Electric rising bollards are commonly used to secure public and private property and some high-security areas. It acts as a visual barricade. They range from semi-auto retractable bollards, to fully automatic crash-rated bollards. They are available in a variety of sizes, finishes, and materials. Bollards and security road blockers can protect people and places from unsecured issues.
Electric rising bollards parameters:
Storage Environment: -10℃~65℃, water-proof, damp-proof,dust-proof.
Rising height: 600mm(standard) Max can be 800mm
Standard Thickness: 6 (standard ) 8,10,25,30mm(optional).
Cylinder Diameter: 273
Casing size: 450*450*900mm
Structure: With load-bearing steel beam-column, anti-collision steel beam-column, 4 navigation rod
Integrated electrical mechanism: stroke 600mm, Cylinder outer diameter 60mm,
Piston rod diameter: 16mm
6K Mirror Surface Cylinder
With LED(Acrylic light circle)
Reflective sticker: 2 strips
In case of a power outage, the bollards can be manually lowered by connecting with a backup battery
IP rate: IP68 Certified
Weight: 150±KG
In raising and falling, a reversible operation is available
A device running noise≤60decibel
The hydraulic mechanism is a fully sealed aluminum casing to ensure a waterproof rating
The hydraulic drive comes with a hydraulic lock
PLC control box: 500*400*200mm
PLC programming command control system
Solenoid valve voltage 24V
Remote control distance 50M-100M(Based on the environment)
The control box displays text adjustable(Up, Down, Action, Time control adjustment)
Text display with Chinese and English bilingual
PLC built-in encryption system
APP and PC remote control (optional)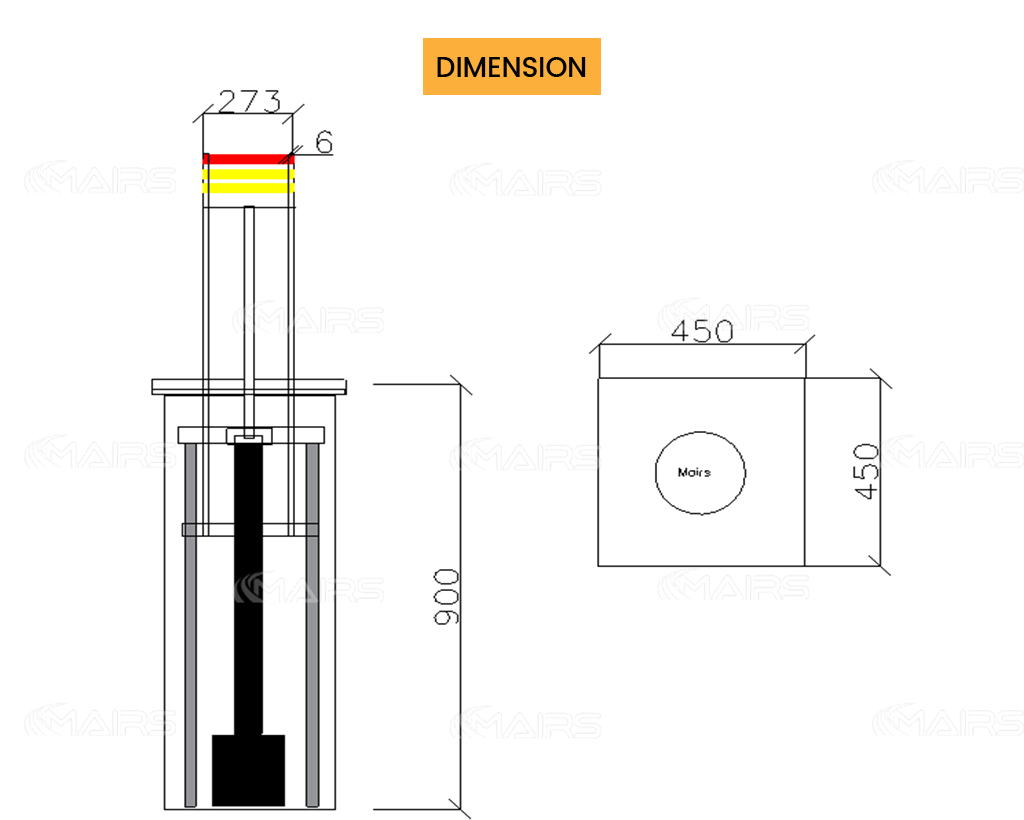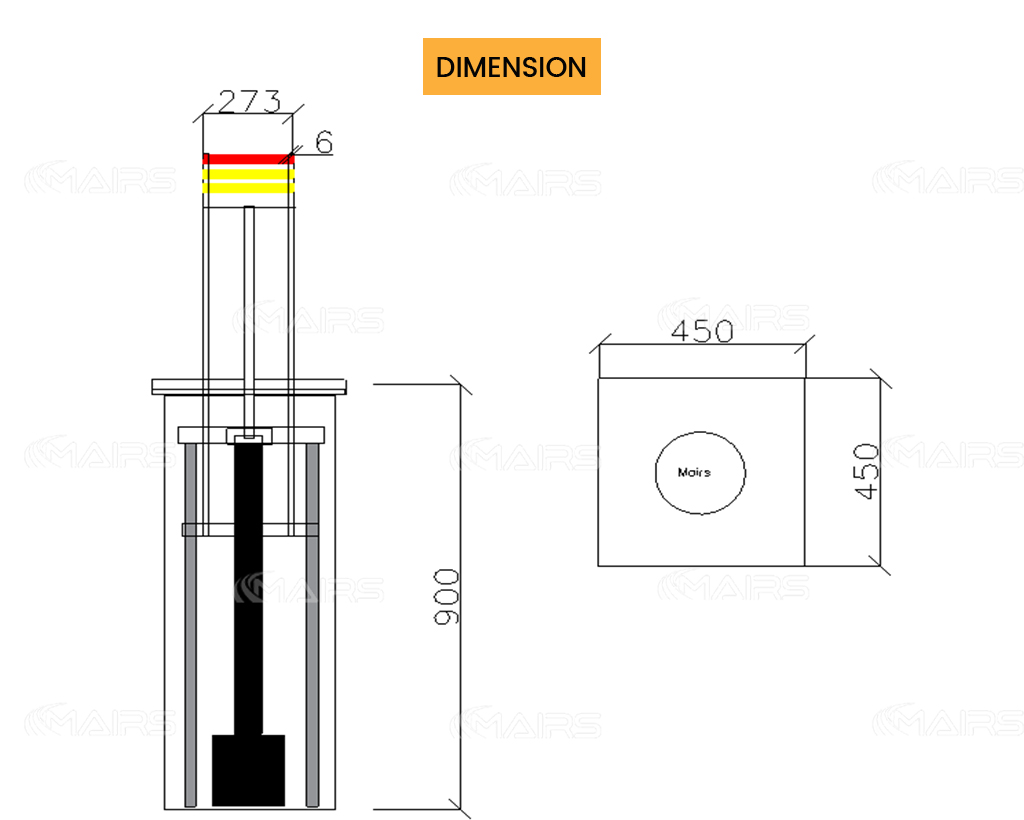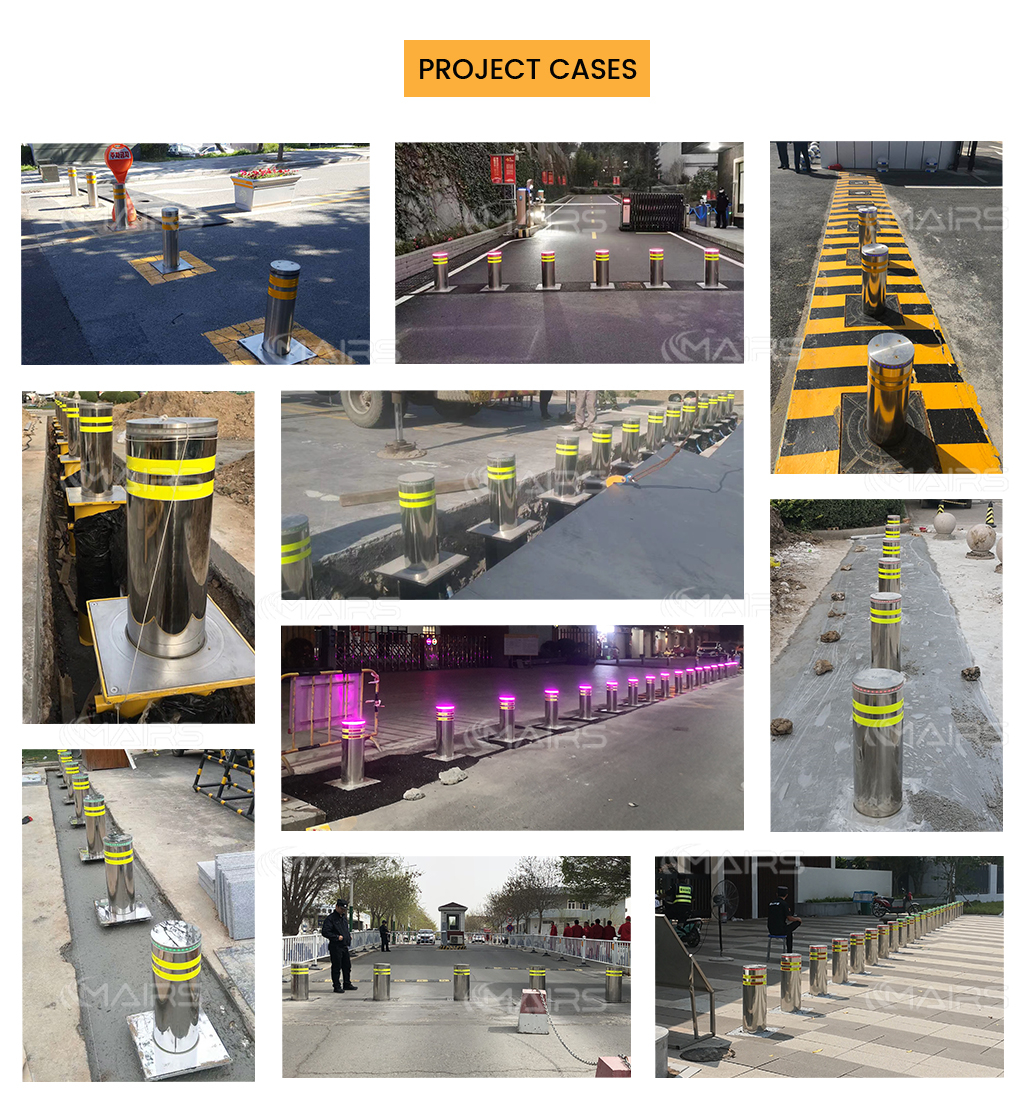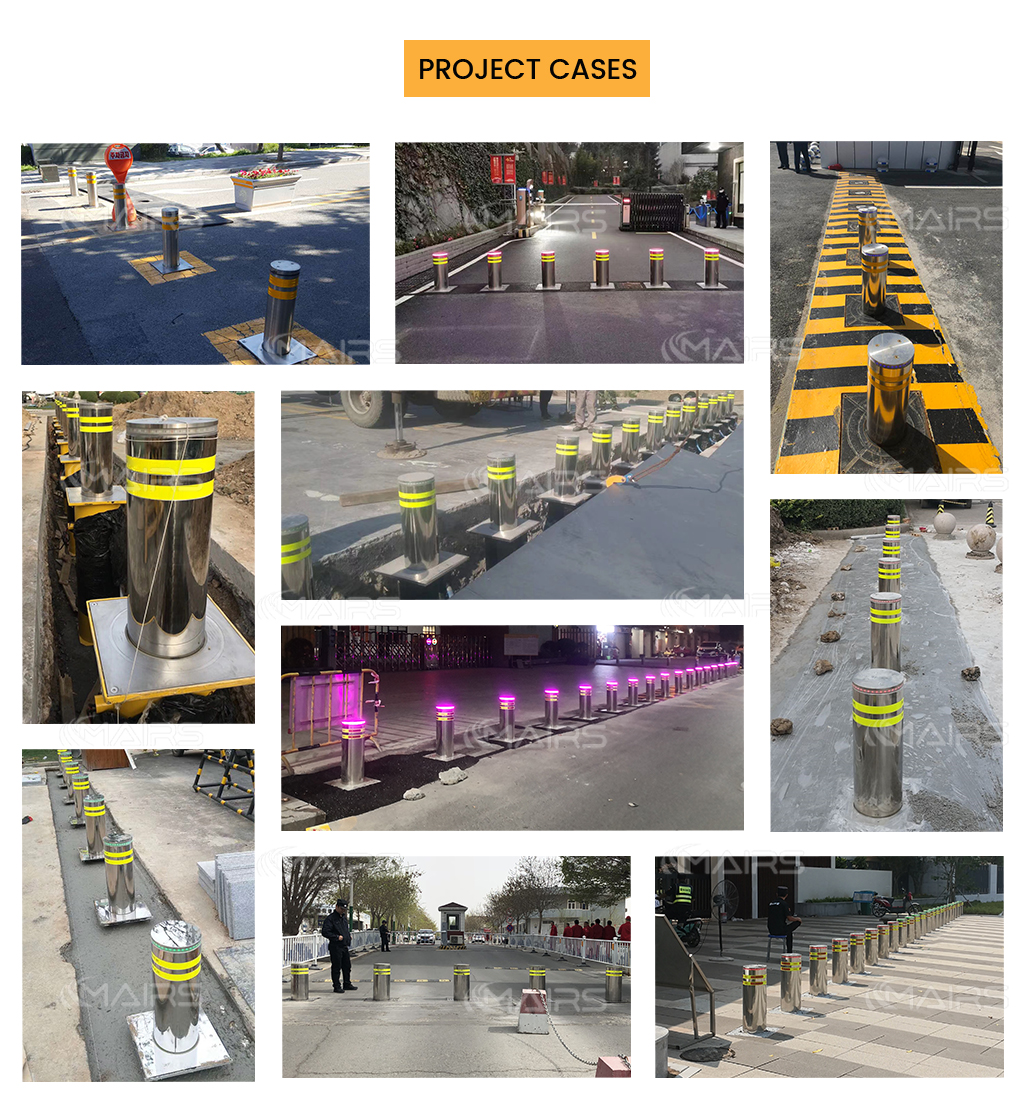 Sharing this: