Last updated on: November 16th, 2023 17:39 pm
The best super mute full height sliding turnstile, sliding turnstile barrier gate, sliding gate turnstile for sale.
FULL HEIGHT SLIDING GATE TURNSTILE carries a 2-year warranty and durable maintenance and repair support.
Sliding turnstile is a kind of pedestrian access control turnstile gate based on the parallel linear movement of two baffles in the same or different directions to open and close the door. The sliding turnstile is an electric control automated turnstiles gate, which can be opened and closed manually through buttons, card swiping, and remote control, or fully automatic through face recognition and human body induction. At present, it is commonly used at the entrance gate of various residential areas, enterprises, factories, and other places, which is specially used to control pedestrian access.
The sliding turnstile is composed of a chassis and two movable door wings, which can be extended and retracted to dissuade or release. This new design full height sliding turnstile MT237-P adopts the latest design and beautiful shape. The application selection of the sliding gate turnstile is determined according to the size and area of the site. Its door wing is higher than the swing turnstile gate and flap barrier turnstile. It is generally designed to be 1.6m high. The channel width is the same as that of the swing turnstile gate channel. The width of 0.55 M is enough to achieve the purpose of one person's passage.
For some government agencies and units or places with strong confidentiality and high-security requirements, the sliding turnstile can be selected as the main access control management equipment, which has more strict access management and stronger security measures. The security measures are mainly reflected in its design. The sliding arm is relatively high to prevent drilling and climbing, and the main material is acrylic glass. The vision of this channel will not be limited. It is placed in the hall of the office building, and the whole is still transparent and bright.
The sliding barrier turnstile is different from the tripod turnstile gate, swing turnstile gate, and a flap barrier gate. It is a kind of pedestrian turnstile gate equipment that is not commonly used and needs to be strictly prevented from entering and leaving. Because the blocking barrier on both sides is translation type and adopts automatic control, it will not easily clip people. The design of a high-blocking barrier prevents the possibility of unauthorized crossing and climbing, so high security is its most important sign. The blocking barrier is thin and can be made into the form of two doors, which is more reinforced for security and safe and flexible.
It is mostly used in scenes where security efficiency needs to be improved, such as high-end office buildings, group enterprises, halls or elevator halls of business buildings, staircases, etc.
We can also create a rendering for you within a few minutes based on your actual scenario. We also provide detailed layouts and drawings, as well as installation drawings.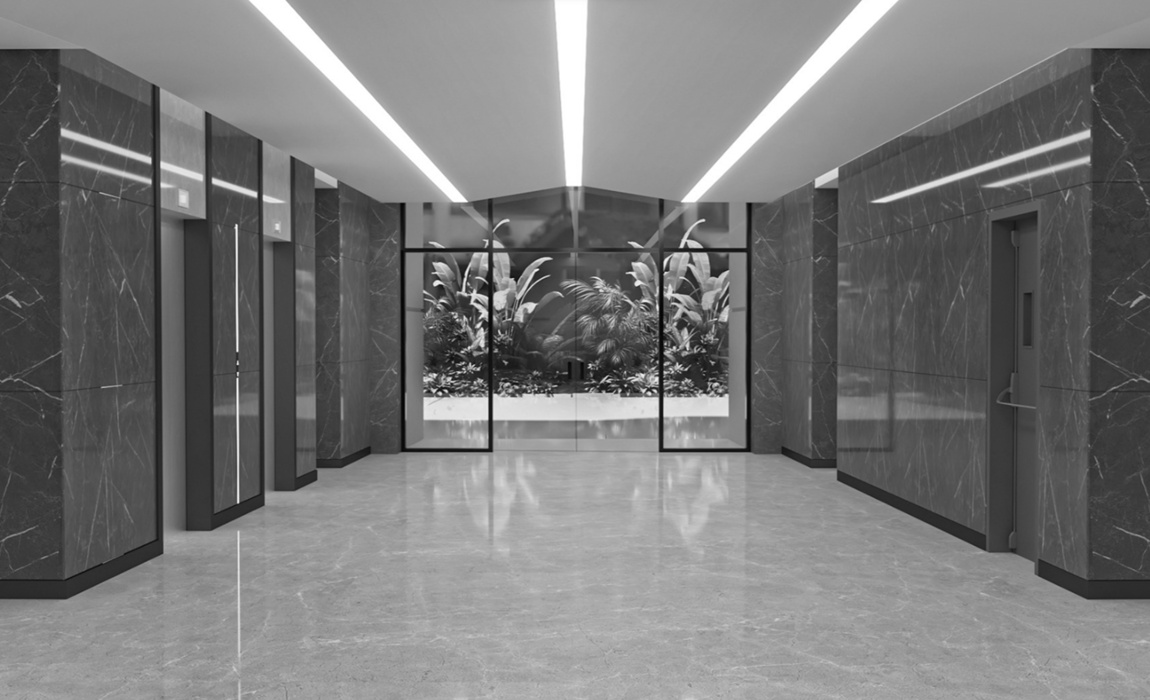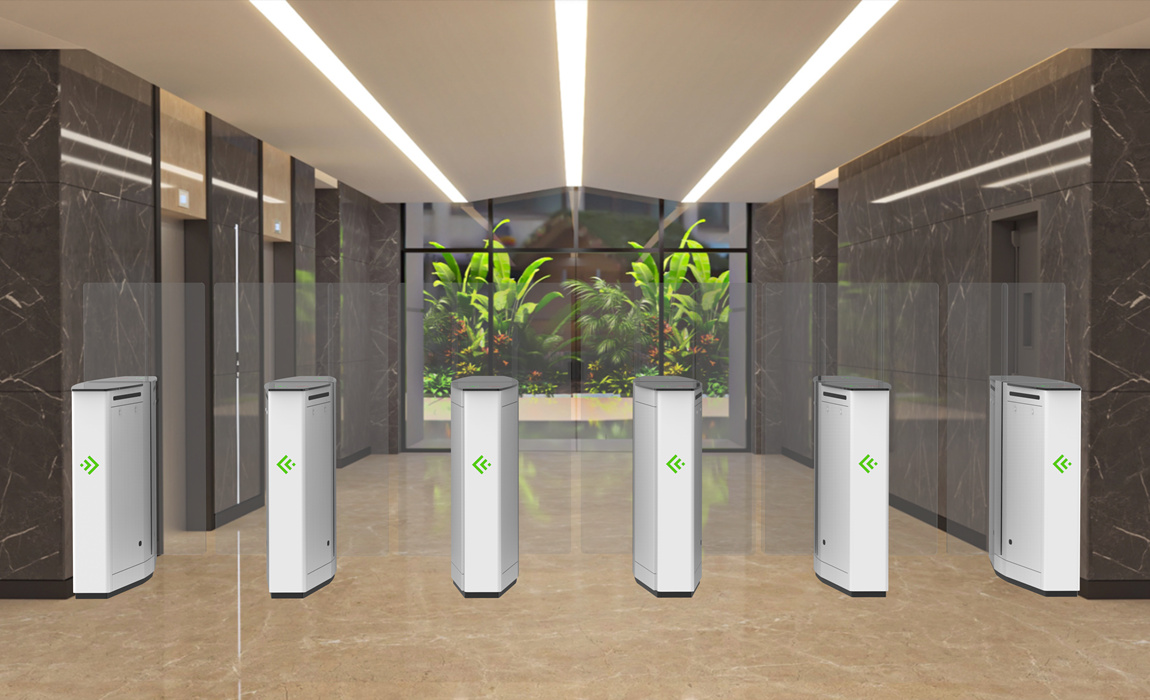 Precautions for use :
In the process of using the sliding barrier turnstile, the passing personnel shall abide by the passing principle of "swiping card outside the yellow line or senseless identification, no trailing and reverse passing".
Note: pedestrians swipe their cards outside the yellow line on the outside of the passage. Only one person can pass through a valid card at a time. It is forbidden for pedestrians behind to follow and opposite to pass in the opposite direction without swiping their cards. ".
Pay attention to daily cleaning and maintenance during the use of the sliding barrier turnstile. Regular inspection can effectively prevent the aging of the equipment, and timely maintenance can effectively prolong the service life of the equipment. In the practical application of the sliding barrier turnstile, the appearance and function can be customized according to the demand.
We can provide OEM and ODM services. We also provide biometric devices, such as IC/ID card readers, fingerprint scanners, QR code scanners, face recognition cameras, and so on. If you need to integrate these devices on the turnstile gate or have any questions, please contact us
The first video is an ordinary sliding turnstile, which is ultra-silent and looks beautiful. The following video is a customized sliding turnstile. No matter the size or appearance of the sliding turnstile, it is customized according to the actual needs of customers. If you need to customize a similar sliding turnstile, you can also contact us
SLIDING GATE TURNSTILE features an elegant design, high speed, high security, small noise operation, smooth running, and a long life span. It's highly integrated to be compatible with face recognition temperature scanners, fingerprint access control, QR systems, ESD access control RFID, etc. Being the speed flap barrier, the swing baffle opens automatically when power is off, free for passing for fire/ emergency exit requirements.
SLIDING TURNSTILE is constructed to control people entering or exiting the restricted area. It is usually used in high pedestrian traffic flow locations in both directions.
The sliding barrier turnstile gate casing is made of brushed 304 stainless steel which creates a seamless and nice entrance system to blend into most indoor environments.
It can be integrated with all third-party access control systems (e.g.: RFID access system, Push the button, Fingerprint and face recognition with temperature check).
In case of emergency, the Sliding Turnstile arm will open automatically connecting with the battery or capacitor to allow free passage.
The optical sliding turnstile is suitable for luxury and elegant entrance solutions.
The sliding gate turnstile features fast speed, long life, high performance, and high operation dependability.
 Alarm function, in case of illegal intrusion and reverse intrusion.
The infrared sensor will alarm and the LED light will flash to prevent pinching pedestrians.
Automatic reset function: sliding arms will close automatically within 5s in default (can be set) if a passenger delays to
The sliding gate turnstile will stay in the lock if someone wants to burst in without swiping the RFID card.
An LED directional indicator on the top and front post
Casing Material: 304 stainless steel
Anti-reverse function, the turnstile alarms if someone wants to enter in the reverse direction.
Bi-direction or single-direction running are options
We can provide the entire security access control solution. If you have your own access control system, you can directly use our turnstile gate. If you don't have one, we also provide a complete security access control solution. Please refer to the video below for details.
Sharing this: